dinoland!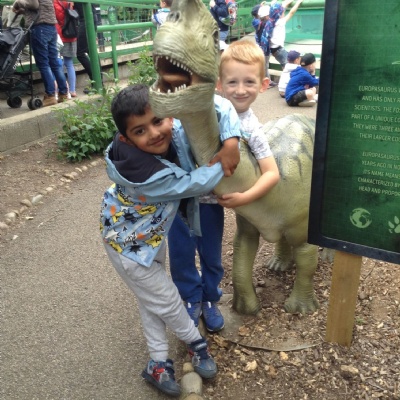 On Monday, Fuji and K2 went on an exciting trip to 'Dinoland'.
We enjoyed making slime with 'dinosaur snot' to make it turn green and 'dinosaur blood' to turn it red! We all had a go at being a palaeontologist at the the dinosaur dig where we used the spades and brushes to uncover fossils and dinosaur footprints. We saw lots of dinosaurs - some which moved and looked so real!
Tiana said, "I liked going on the boat ride and seeing all the dinosaurs. They made me jump because they were hiding in the bushes!"
We also spent time exploring the farm and we saw lots of different animals. We all enjoyed going on the tractor ride.
Dinoland was the perfect way to finish our dinosaur topic. Now this is the 'endosaurous' for our time in reception!
To see photos of our trip, please click HERE!