Week commencing Monday 20th February 2017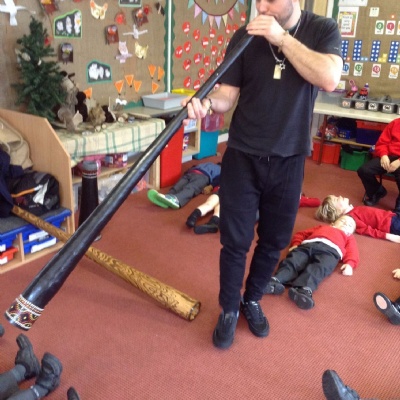 Welcome back to the Reception weekly blog!
It was lovely to see the children again after our half-term break and they all seemed happy and refreshed! This week we have been listening to different versions of Goldilocks and the Three Bears and the children have attempted their own story starter in their 'Have a go' writing books. We have been developing our target skills in outdoor games and our marching skills in dance. A particular highlight of this week was the visit of Ricardo, a didgeridoo player, who played the instruments to take the children to the land of dreams - they were captivated by both the instruments and the sounds he was able to create! At the end of the week we had fun creating 'Bear on toast' and then eating it!
Next week we will be listening to different versions of the traditional tale of Little Red Riding Hood and we will be developing our doubling and halving skills. Over the weekend it would be good if your children could have a go at some of the targets set for them on your consultation sheets.
Maths websites:
http://www.topmarks.co.uk/maths-games/hit-the-button
http://www.topmarks.co.uk/Flash.aspx?f=dartboarddoublesandhalves
http://ww.ictgames.com/robindoubles.html
http://www.abc.net.au/countusin/games/game1.htm
Have a lovely weekend - Shrove Tuesday (Pancake day) will soon be here! Please see our photos HERE