Week beginning 4th January 2017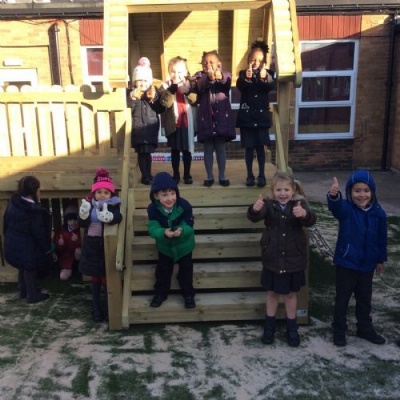 Welcome back to the Reception weekly blog and a very Happy New Year to you all!
This has been a particularly exciting return to school for our Reception classes as we are now the proud owners of a fabulous outdoor activity centre, located in the outdoor area of Mrs Mackay's classroom. This specialist equipment has been designed to offer children a range of 'risky play' opportunities, many of which will require them to climb, jump or carry their own body weight. We know that these activities are not always readily available to children outside of school and we recognise the importance of young children developing positive attitudes to exercise and learning to manage risk. All parents are most welcome to come and take a look for themselves when you come and collect your children at the end of the school day.
Next week we will have our stunning start to the topic of 'Into the Woods' when we are visited by the Birds of Prey Centre and our children will have the opportunity to observe some of our native woodland birds at close range. During the week we will be undertaking a range of activities relating to owls. In our mathematics we will be developing our addition and subtraction skills.
Maths websites:
http://www.topmarks.co.uk/number-facts/number-fact-families
http://www.mathlearningcenter.org/web-apps/number-rack/ (create your own addition/subtraction problems using an abacus)
http://www.topmarks.co.uk/Flash.aspx?f=TakeAway
Have a lovely weekend!