Week commencing Monday 12th December 2016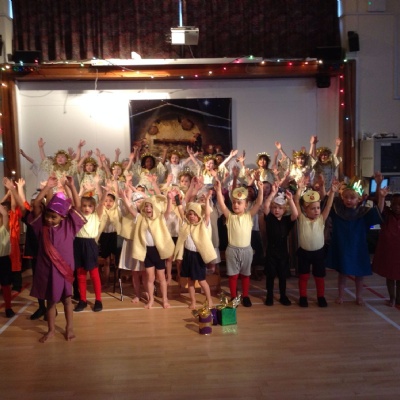 Hello and welcome to the final Reception blog of the Autumn Term
We cannot believe the term has gone so quickly!
This has been a week of celebrating Christmas - we hope you really enjoyed our Christmas Production - the children worked so hard and we were incredibly proud of them all! We have also performed one of our production songs to our neighbours who remain extremely tolerant of school traffic throughout the year. On Wednesday we enjoyed our Christmas party (funded by our amazing PTFA) and enjoyed a party lunch followed by games and a visit from Father Christmas who gave a gift to every child in the school!
Over the Christmas break, we would be so grateful if your children could complete the sounds in their pink books, continue to read their books (together with any other books that they enjoy!) and practise their mathematics by completing some of the activities given in the maths website list distributed after the maths information evening.
Next term our topic will be 'Into the Woods' and we will be investigating animals we may find in our woods.
We would like to wish you all a peaceful Christmas break and a very Happy New Year! We look foward to welcoming you all back on Wednesday 4th January 2017!