Puzzle Evening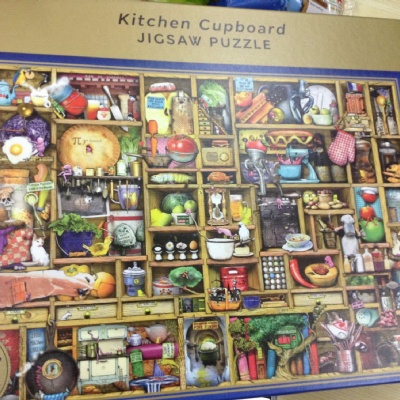 On Friday 3rd March the PTFA had a fundraising evening which raised £ 150.00
We had 60 people take part including staff, parents and friends and family. Split into teams of 6 and starting at 7.30pm everyone raced to get the straight edge pieces and make the border of the 1,000 piece identical puzzles. At 8.30pm the bell was rung to stop and sausage and chips had been ordered so we stopped for half an hour to chat and eat and have a drink.
At 9pm the bell went to start again and we all dived in with the aim being to attach as many pieces as we could to the outer frame. The room was fairly silent with so much concentration going on although the odd call out of 'yes, i found it' could be heard around the room.
At 10pm the bell went again and we all shouted to have more time to try and finish so we were allowed to carry on until 10.30pm. At the final whistle, the remaining pieces of each team were placed in each lid and weighed by Mrs Lawes. The winners were Mr Howell, Mrs Jobity, Miss Dallas, Mr Wightman, Mrs Monk and Miss Monk. We ll done everyone a great evening had by all.
Quiz night is the next event - Wednesday 3rd May 7.30pm