NOVEMBER FUN!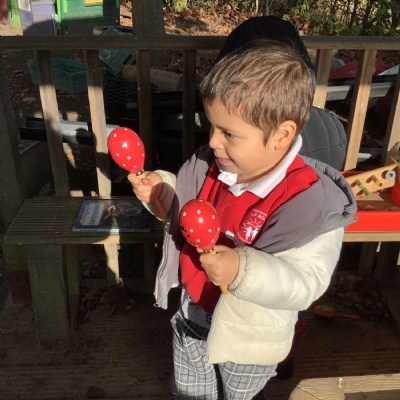 Rainbow class have been very busy this half term
We started by discussing Halloween, what we did and if we dressed up for Halloween. Then it was fireworks night and rainbow class enjoyed telling us about whether they saw fireworks, what colours they were and they even did their own chalk fireworks pictures!
We have also been learning about music and sounds, rainbow class really enjoyed playing different musical instruments. They explored how they can play them fast and slow and loudly and quietly! The children also enjoyed reading the story 'The very hungry caterpillar' and talking about the different stages of a caterpillar's life cycle.
We've been spending lots of time playing outside in the nursery garden and the children have had lots of fun playing and building with the big wooden blocks, they made a long bridge they had to walk across without losing their balance. Click HERE to have a look at photos of our learning.