NURSERY RHYMES!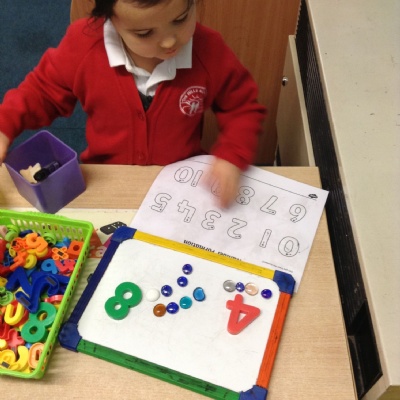 We have all loved exploring lots of our favourite nursery rhymes this term. Rainbows have been practising their cutting skills to cut and stick back together their own Humpty Dumpty and they have enjoyed creating their own spider web Little Miss Muffet pictures.
Rainbows have also been playing rhyming games. For example the phonics play "cake bake" game on the interactive whiteboard to practise listening and recognising rhyming words. They had lots of fun making sure they had all the rhyming words to bake the cake!
They have been trying really hard with their counting and have been enjoying lots of mathematical challenges in the classroom. From building unifix towers, counting and matching amounts to numerals and even having a go at writing numbers.
Children have also been enjoying starting phonics this term. Learning the phonemes, Jolly Phonics songs and actions and even having a go at forming the letters. They are having fun playing games to practise recognising and hearing the sounds we have learnt so far.
Please have a look HERE from some photos of our learning.