REMEMBERANCE AT THE HILLS!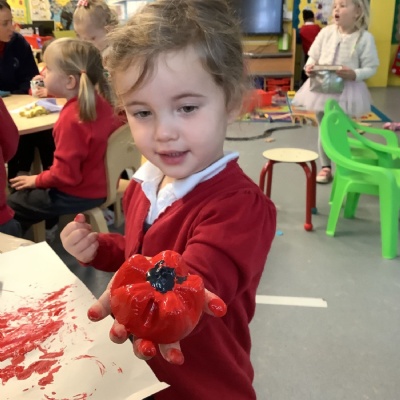 Around this time of year, the nation stops for a moment to remember those members of His Majesty's Armed Forces who have served in operations and campaigns, both current and historic, around the world. We take a minute to reflect on the sacrifice of those that have fought for our way of life in the past and those who continue to defend our freedom.
From the trenches of the First World War, through the bridges that were a step too far, to the jungles of Korea, on through to the more recent conflicts in the desert. British servicemen and women are remembered every year on 11 November at 11am.
Here at The Hills, to remember The Fallen, we have created a poppy wave on the playground fence comprised of the four different coloured poppies that you may see people wearing at this time of year:
· The red poppy immortalised in the classic poem 'In Flanders Field'.
· The purple poppy to remember the many animals that have given their lives in conflicts.
· The black poppy to remember those from African and Asian countries.
· And finally, the white poppy - a recognised symbol of peace – that remembers the civilians that have made that ultimate sacrifice.
It is hoped that, as you pass by the wall, you will take a moment…a pause…a brief reflection… on whatever it means to you and your family. We enjoy the freedoms of today because of their sacrifice in the past.
They shall grow not old, as we that are left grow old:
Age shall not weary them, nor the years condemn.
At the going down of the sun and in the morning
We will remember them.
Binyon 1914
Have a look HERE for some photos of the wall creation around the school.