RED, WHITE AND BLUE DAY!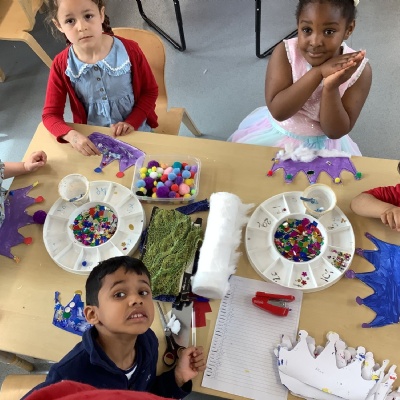 Last Thursday we celebrated the significant event of the Coronation of King Charles III.
Our theme for the day was red, white and blue. We learnt that he is the oldest person to ever assume the throne and that he has become King because his Mother was Queen Elizabeth II who sadly passed away last September.
As part of our celebrations, we enjoyed a fantastic Punch and Judy show in the morning, it was so funny!
Everyone in school was given a small crown to decorate for Mrs Benson to make into a commemorative piece of art for us to remember the day.
In the afternoon some of us enjoyed making our own crowns before heading to the Coronation Coffee Afternoon. There were some amazing cakes donated and lots of families came along and enjoyed the event.
We hope that those who celebrated over the weekend had a great time!
See some photos of the day HERE!