WE ARE BACK IN THE GARDEN!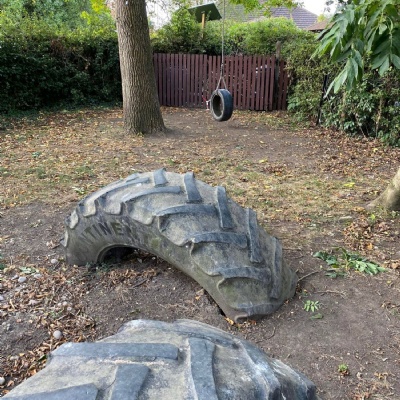 Over the last few months you may have noticed some changes in the garden to get us ready for the new school year.
Changes such as bird hide has been re camouflaged so we can hide while watching the many birds that visit our garden, The plastic sheds have been replaced with some wonderful wooden shelters, the pond area has new plants, the pond has been repaired and new planters have been installed ready to be filled.
You may have already noticed the children have been busy outside, the mud patch certainly looks muddy, the bug hotel construction is well under way, the bird feeders are full and there is some wonderful chalk patterns decorating the pavements
Every class from Year 1 - Year 6 will spend a session each half term with Mrs Griffin Planting, building, playing and team building over the next school year. When it is your child day please remember to send them in in clothes that can get dirty, waterproofs, welly's and a change of clothes (just in case).
We are always collecting unwanted items for the garden, things to stock our Tiki Kitchen, plants for the garden, garden toys or unwanted tools, if you have a sort out and have preloved items looking for a new home please sent them in to the attention of Mrs Griffin or Miss Starr.
Mrs Griffin and Miss Starr would like to say a big thank you to Pete, Janet, Dave, Allan and Clare who have worked hard within our area to help us get ready, you are amazing :)
Have a look HERE for some photo's of the garden