RAGLAN COURT VISIT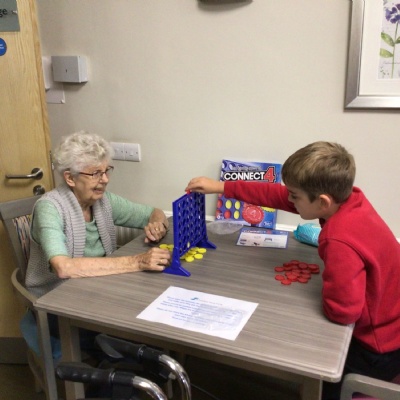 This week a group of children from Year 4 and 5 visited Raglan court for an intergenerational visit to play games and chat to the wonderful people who live there. It was an amazing experience that the children thoroughly enjoyed. Here is what the children wrote about their morning:
Today we went to raglan court. It was a magical experience. Each and everyone of us enjoyed ourselves on this trip today. We all had lots of fun enjoying spending time and playing games with the people who live there.
From our school we took a twenty-minute walk to Raglan Court. Every one who lived there is over 55.
We met lots of people there who are very nice and had lots of interesting stories to tell. Mary, Sheila, Steve, Linda and many more adults were there to make our day better for us and for them.
One of the ladies was 96 years old and came in with her son for a quick game of Connect 4 and a chat, it was lovely to meet her.
Steve, had a very interesting story to tell, he delighted us with an exciting story of his childhood when he used to drive a tractor to work on the fields and milked cows when he was just 12 – that's not much older than we are!! Just after telling us this he won a game of guess who. Steve was a very nice man who loved his cars. He could probably name any car in he world!
Linda was also very nice and determined to win a game of chess. As the game went on, Linda's mind raced to find tricks and tactics to beat her challenger.
Mary, a lovely lady who we played with, told a story about when she got her driving lesson back in the 1960s. She first drove in a bubble car. They were very popular back then. We had fun playing lots of different games like jigsaw puzzles, connect 4 , snakes and ladders , guess who , ludo and chess.
When we had finished our games we had some cakes and juice and before leaving this amazing place, we all got sat down so that Steve could give us a leaving talk. We got gift bags from the adults. Of course there was one word we had to say……
THANK YOU!!!
We all had fun at Raglan Court, it was an awesome experience, and we really hope to go back again.
Have a look HERE at some photos from our visit