Spring term fun!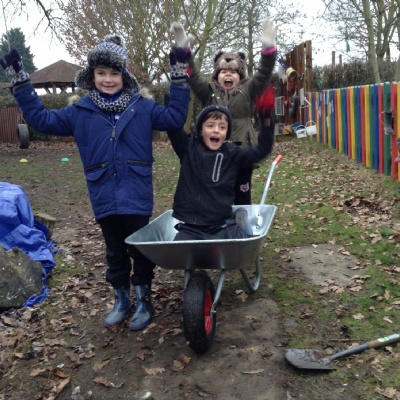 Welcome back, we hope you had a lovely winter break.
It's cold and dreary in the Dragonflies garden but we never let that get us down and there have been lots of activities going on!
This half term the Tiki Kitchen has often been turned into a cafe serving the most delicious mud cakes and leaf pies you have ever seen... not to mention the murky milkshakes and stick tea... the adults have really enjoyed tasting them!!! If you look in the forest area you will see our new and upcycled bird hide and using our new binoculars we have seen Mr Robin, pigeons, sparrows and even a squirrel or two. We have even started preparing the allotment area for the spring planting by raking away some of the fallen leaves using the new tools we brought with the Christmas Raffle money from last term :)
With all of this going on you may wonder if we have had time to play in the mud... of course we have... in Dragonflies we can always squeeze in mud play :)
Click HERE to see some photos!