Young Voices 2019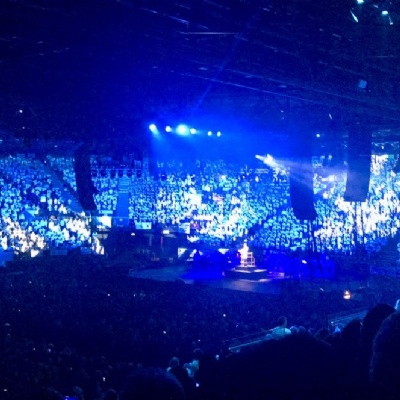 After weeks of preparations and practicing, on the 23rd of January, over 6,000 children travelled to the Genting Arena in Birmingham and we were amongst them.
The coaches left school at 11 o'clock in the morning, with one coach carrying the year 3s and 5s, and the other carrying the year 4s and 6s. When we arrived, we were ushered straight to the rehearsal, which started with Ed Sheeran's Castle on the Hill [we didn't sing this to the parents though].
During the concert, some of the popular tracks were A Swing Thing, Pop Medley, American Folk Odyssey and the Greatest Showman Finale. We had fun dancing with Urban Stride who made everyone boogie like they had never boogied before. Our brilliant conductor David Laurence was the best conductor we'd ever seen! As well as this, there was a fantastic light show that our young voices torches went amazingly with, especially when they twinkled in the dark.
There were also several famous faces that appeared in the concert and even a message from Hugh Jackman himself. Everyone loved seeing the celebrities and they played a huge part, which included helping out in the Greatest Showman Finale.
It was an incredibly long coach ride home, and we didn't get back till almost midnight!
Everyone who went thought it was brilliant because we pleased a huge crowd and loved the songs. We think it was an amazing experience that all of us enjoyed, including the teachers.
A big thank you to all the teachers who went with us, and an extra special one to Mrs Cope and Mrs Frost for teaching us the songs.
Have a look HERE for some photos from the day!
By Alex and Tommy